Trading, risk management, and operations software
Trading, risk management, and operations
Orchestrade is the market leading complete cross asset front-to-back trading and risk management platform
Used by investment banks, hedge funds, asset managers, private banks, energy and utility companies. A trusted technology partner that truly understands and meets the needs of firms, from start-up operations to the largest global enterprises.
"Best risk management technology"  With Intelligence HFM European Services Awards 2023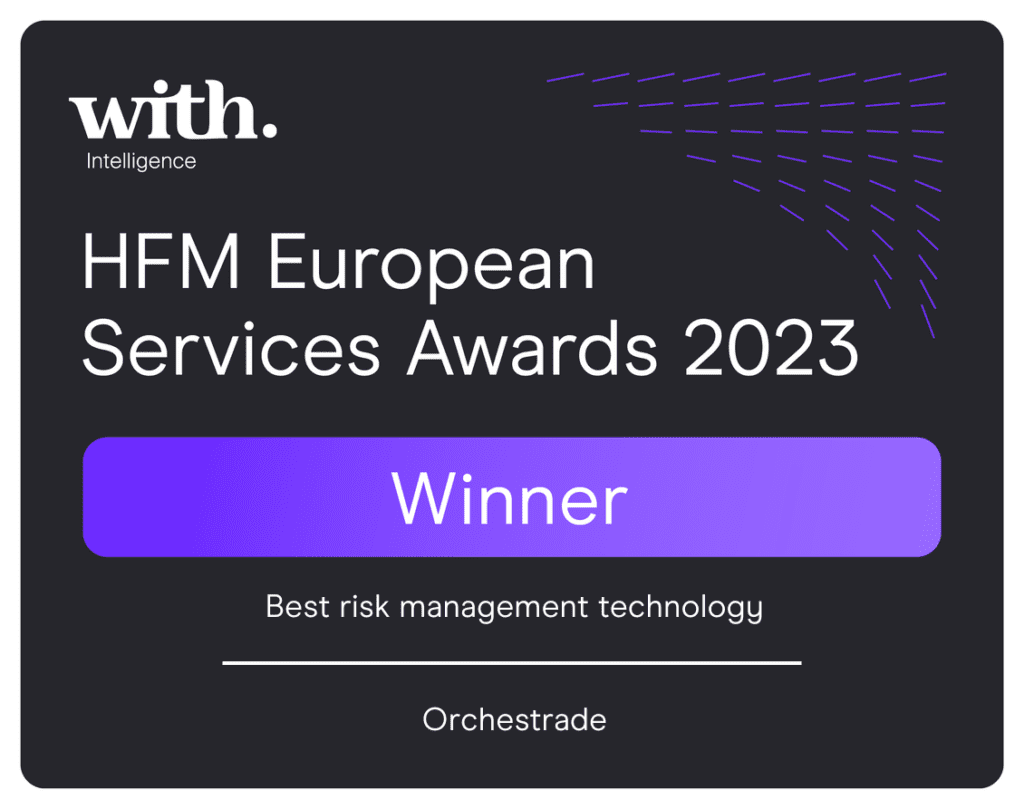 "Best sell-side middle-office Platform" in 2023 WatersTechnology Sell-Side Technology Awards
"Best Middle Office Solution" in 2022 FTF News Technology Innovation Awards.
"Orchestrade enabled us to launch a specialized fund business in under 6 weeks, covering end-to-end processing of all the basic cash and complex derivative products we trade."
Gang Hu, Managing Partner, WinShore Capital
"We went live in less than 3 months with Orchestrade as our trading, risk and operations system for our fund launch, covering a wide range of OTC and exchange-traded products. We continue to rely on the breadth and depth of the system as our business grows."
Robb Arnulphy, COO, Welwing Capital Group
"We wanted to have one user-friendly system with a real-time view of risk and P&L."
Nigel Eastman, Director of Operations and Technology, Finisterre Capital
"In the end, Orchestrade delivered on all fronts. The quality and speed of the implementation has exceeded our expectations and we view Orchestrade as a strategic part of our trading and risk architecture going forward. The entire project from selection to production was accomplished in just nine months, on schedule and within budget."
David Blake, Managing Director, Risk Management Department EMEA, Mizuho Bank
"With Orchestrade, we are embracing a disruptive technology that can keep pace with our innovative approach to delivering value to customers. Today, we are able to rapidly launch new products including the most complex energy derivatives and improve our end-to-end processing and risk management."
Philippe Vedrenne, CEO, ENGIE Global Markets
"Our IT teams have completely revamped our information system and built a full fledge architecture to allow a fast and clean integration of Orchestrade, simplify the business workflows and open the platform using APIs. We are extremely happy with our new digital ecosystem, as it is very scalable and adaptable to our clients' needs. It will give us a competitive edge in a fast changing environment."
Ludovic Quesnelle, CIO, ENGIE's business unit Global Energy Management
"Exiting our previous ETRMs was a very bold and disruptive decision for many reasons. First because it meant we would co-develop with Orchestrade and share our expertise on commodities with them. Secondly, it meant revamping all our IS platforms, rethinking our pre and post-trade processes and rewriting our proprietary quantitative libraries. It was a large project who required agility, drive, dedication and a lot of work. I am very grateful of all of our teams (Back, Finance, Front, IS, Quants, Risks) who made it possible. It was truly a team project."
Alexandre Cosquer, Executive Committee Member, ENGIE's business unit Global Energy Management
"Orchestrade's strengths were its ability to understand AFL's technical needs and to propose a solution with a competitive quality-price ratio. The platform's standard functional coverage was good, as well as Orchestrade's willingness to develop missing interfaces during the project, working alongside AFL's business and IT teams"
Olivier Roullé, AFL General Secretary