Energy trading and risk management software
Delivering the step-change ETRM solution.
Orchestrade is a modern state-of-the-art cloud native platform, designed collaboratively with one of the world's leading energy traders, that enhances all aspects of Energy and Environmental Trading and Risk Management.
Orchestrade's open and highly performant architecture allows businesses to scale and evolve quickly in the everchanging energy landscape, while also delivering a significantly lower cost of implementation, upgrades and ongoing operations.
The speed and volatility of the energy markets present new challenges for participants, but also opportunities for those with the right technology. The need to deliver digital transformation and decarbonisation across the sector adds to the overall complexity faced by organisations.
Orchestrade ETRM removes the barriers to innovation, growth, and profitability.
Managing a tsunami of data is key to transforming the energy industry to deliver Net Zero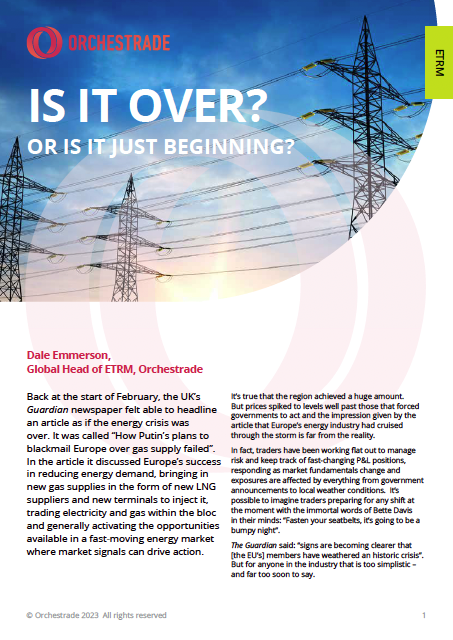 Fast-moving structural changes, ballooning markets and a shift to renewables

To manage risk, and make effective decisions, traders must have real-time visibility
As energy depends more on weather-dependent renewables, this is the time to innovate
Click a + below to discover more
Multi instrument across physical and financial trading
Spot, physical forward, swap, options, swaptions, futures and listed options
Clean-dark-sparks spreads
User defined structured products
FTR's cross-border transport capacity (including UIOSI/UIOLI processes)
PPA, VPP's
Full supply contract management (inc. reforecast of client consumption and P&L explained on reforecast)
Multi instrument across physical and financial trading
Spot, physical forward, swap, options, swaptions, futures and listed optionsSwing
and user defined structured products
Full supply contract management (inc. re-forecast of client consumption and P&L explained on re-forecast)
Multi instrument financial trading
EUA and CER auctions and futures
Spot, forward, option on EUA and CER
Guarantee of Origin (GoO)
Energy Savings Certificate (CEE)
Certificate inventory management
Multi instrument financial trading
Forward, swaps, spreads, options, swaptions
Futures and listed options
Cracks and differential spreads
Basket swaps and user defined structured products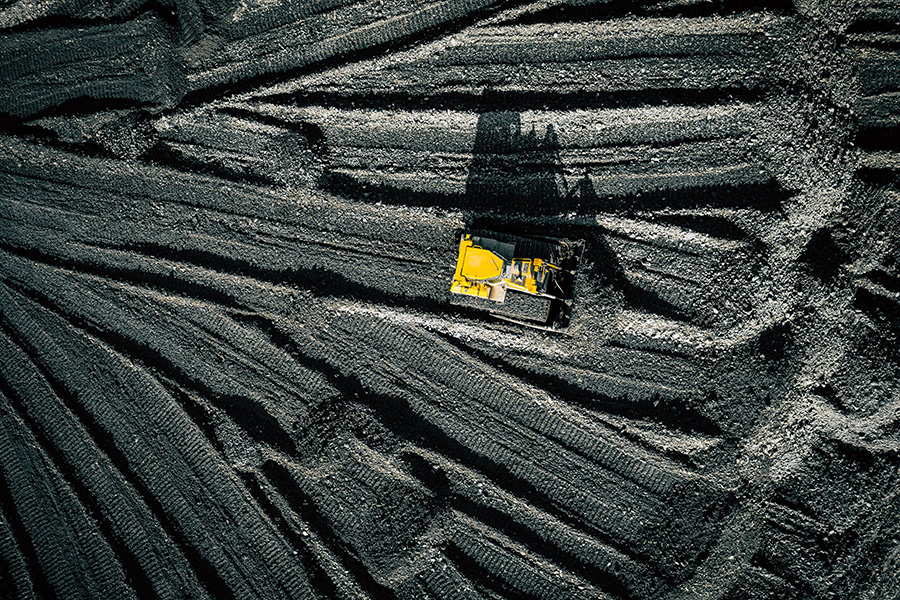 Multi instrument financial trading
Swaps, forwards, options on API2, API4, and API5 with management of weekly fixing publications
Listed futures and options on API2, API4, and API5
Multi instrument financial trading
Swaps, forwards, options on time charter (Capesize, Supramax etc.)
Swaps, forwards, options on voyage charter (Route Tubarao, Bolivar etc.)
Listed future contracts on time charter and voyage charter
Multi instrument physical and financial trading 
Weather energy-contingent derivatives (volume of physically delivered energy indexed on temperature)
Weather contingent swap products
Multi instrument financial trading
FX, FX options
Interest rate swaps
Full range of treasury and financial derivative products
Multi-underlying basket-based forward products (swaps, options, swaptions)
Complex price formulas deals comprised of energy and financial market components
"With Orchestrade, we are embracing a disruptive technology that can keep pace with our innovative approach to delivering value to customers. Today, we are able to rapidly launch new products including the most complex energy derivatives and improve our end-to-end processing and risk management."
Philippe Vedrenne, CEO, ENGIE Global Markets
"Our IT teams have completely revamped our information system and built a full fledge architecture to allow a fast and clean integration of Orchestrade, simplify the business workflows and open the platform using APIs. We are extremely happy with our new digital ecosystem, as it is very scalable and adaptable to our clients' needs. It will give us a competitive edge in a fast changing environment."
Ludovic Quesnelle, CIO, ENGIE's business unit Global Energy Management
"Exiting our previous ETRMs was a very bold and disruptive decision for many reasons. First because it meant we would co-develop with Orchestrade and share our expertise on commodities with them. Secondly, it meant revamping all our IS platforms, rethinking our pre and post-trade processes and rewriting our proprietary quantitative libraries. It was a large project who required agility, drive, dedication and a lot of work. I am very grateful of all of our teams (Back, Finance, Front, IS, Quants, Risks) who made it possible. It was truly a team project."
Alexandre Cosquer, Executive Committee Member, ENGIE's business unit Global Energy Management