Powerful and scalable trading, risk and operations software
Whether you're a traditional asset manager, pension fund, sovereign wealth fund or managed account service, Orchestrade provides a market proven, stress-tested, industry grade software to meet your specialized investment requirements.
Fund managers have distinct needs, including:
Legacy infrastructure often out-dated or not suited to new products
Market pressure forcing new product initiatives
Risk management understanding limited to linear products
Increasing demand for advanced risk analysis to supplement operational services
Quick deployment of infrastructure on a cost-effective basis
Risk management tools and expertise generally limited to linear products
Require consolidated reporting for client capital, across both fund and direct portfolio investments
Cash management typically limited to passive holdings with banks or using money-market funds
Orchestrade delivers:
Low risk implementation
Access to sophisticated derivatives technology
Continual evolution of platform in response to industry changes
Risk analytics to create conformed reporting for accounts that enable drill down from universe of portfolios to strategy level within a specific portfolio
Potential implementation of PMS to enable managed account owners to monitor in real time their investment allocation performance across all asset classes and conduct overlay hedges
Position keeping
Access to enhanced risk reporting and expertise on your portfolios
Enhance returns from your unencumbered cash through Treasury solutions
Orchestrade is cross-asset by design and offers unrivaled out-of-the-box capabilities with a comprehensive business process library, a range of best-practice workflow configurations and an extensive collection of market standard APIs, all of which enable rapid deployment and a refreshingly short time to market
Comprehensive front-to-back functionality
Click a + below to discover more
Orchestrade Wins "Best Middle Office Solution" in 2023 FTF News Technology Innovation Awards.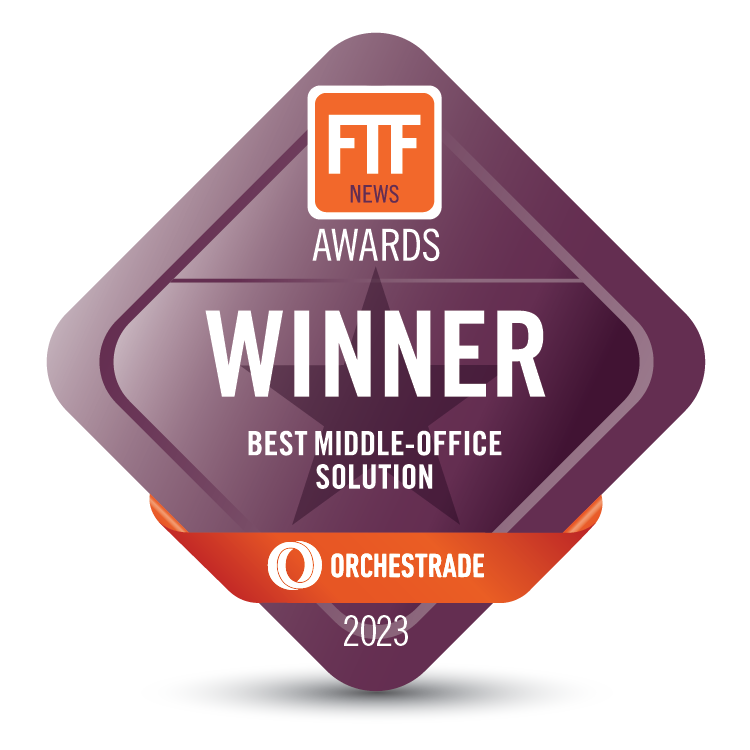 Orchestrade Wins "Best Portfolio Management System" at the Systems in the City Fintech Awards 2023 organised by Goodacre. 
"Orchestrade enabled us to launch a specialized fund business in under 6 weeks, covering end-to-end processing of all the basic cash and complex derivative products we trade."
Gang Hu, Managing Partner, WinShore Capital
"We went live in less than 3 months with Orchestrade as our trading, risk and operations system for our fund launch, covering a wide range of OTC and exchange-traded products. We continue to rely on the breadth and depth of the system as our business grows."
Robb Arnulphy, COO, Welwing Capital Group